Biography
Robert Fergusson (1750-1774)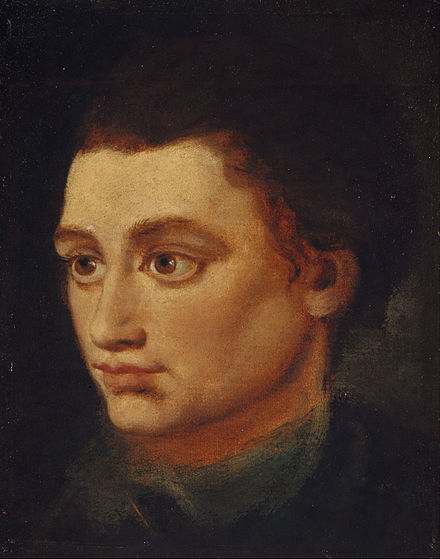 Edinburgh's 'laureate' Robert Fergusson, who studied at St Andrews University in the 1760s under the Professor of Natural Philosophy, William Wilkie, is probably the first significant poet in the English speaking world to study English literary texts as part of his university curriculum. Ferguson spent much of his short life at the Canongate Music Hall after leaving University and he paid tribute to the town's first theatre which he cast as a shrine to the imagination in his burlesque poem The Canongate Play-House in Ruins. Fergusson gave instruction to those of a gothic disposition:
Ye who oft wander by the silver light
Of sister Luna, – or to church yard's gloom,
Or cypress shades, if Chance should guide your steps
To this sad mansion, think not that you tread
Unconsecrated paths; for on this ground
Have holy streams been pour'd, and flow'rets strew'd;
While many a kingly diadem I ween,
Lies useless here entomb'd with heaps of coin
Stampt in theatric mint: offenceless gold!
That carried not persuasion in its hue,
To tutor mankind in their evil ways.
After a lengthen'd series of years,
When the unhallow'd spade shall discompose
This mass of earth, then relice shall be found,
Which, or for gems of worth, or Roman coins,
Well may obtrude on antiquary's eye.
Ye spouting blades! regard this ruin'd fane,
And nightly come within these naked walls
To shed the tragic tear.
Fergusson's fashionable romantic transformation of the ruins of Edinburgh's first playhouse into a sacred temple would not have been possible without the recent revolution in moral thought that allowed him to aestheticise the landscape and replace the graveyard with the stage.
Fergusson composed "A Poem to the memory of John Cunningham" on the day that he heard of the Irish pastoral poet and stroller's death in Newcastle on 18 September 1773.
———————————–