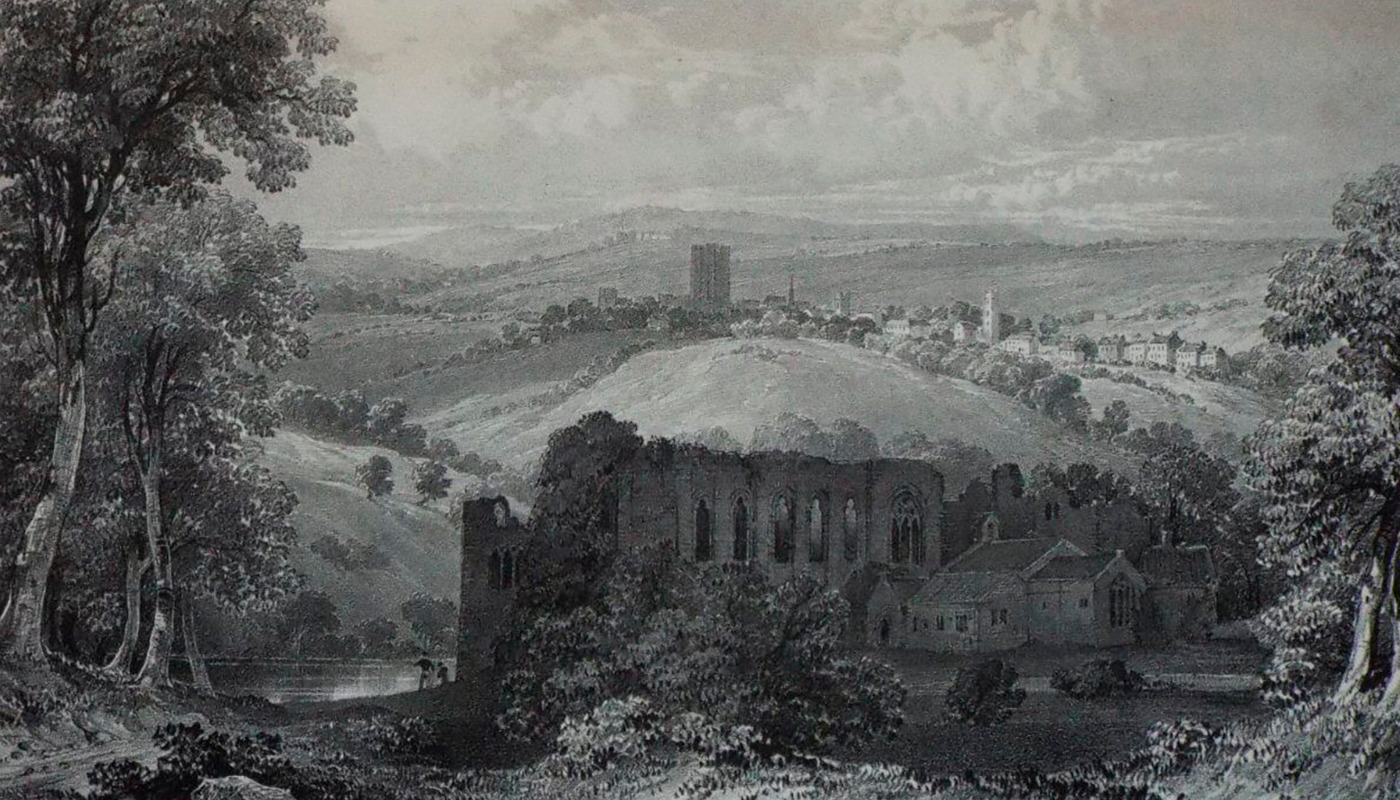 When visiting Richmond in the North Riding in the 1720s Daniel Defoe reported in A tour thro' the whole island of Great Britain: "Here you see all the people, great and small, a knitting; and at Richmond you have a market for woollen or yarn stockings." However, by 1788, this trade was being eroded by Westmorland knitters who had won valuable contracts to supply the Army and Navy with stockings, jerseys and caps. As an indication of the state of the textile trade in 1788 a week before the new Richmond Theatre opened "Wm. Rowlandson, of Richmond, Yorkshire, hosier" appears in a list of bankrupts in the press. William Rowlandson had moved to the town in 1759 with his three year old son Thomas, who would become one of the greatest caricaturists of the period. A watercolour and ink drawing by Thomas Rowlandson from about 1800 shows a busy market day in Richmond.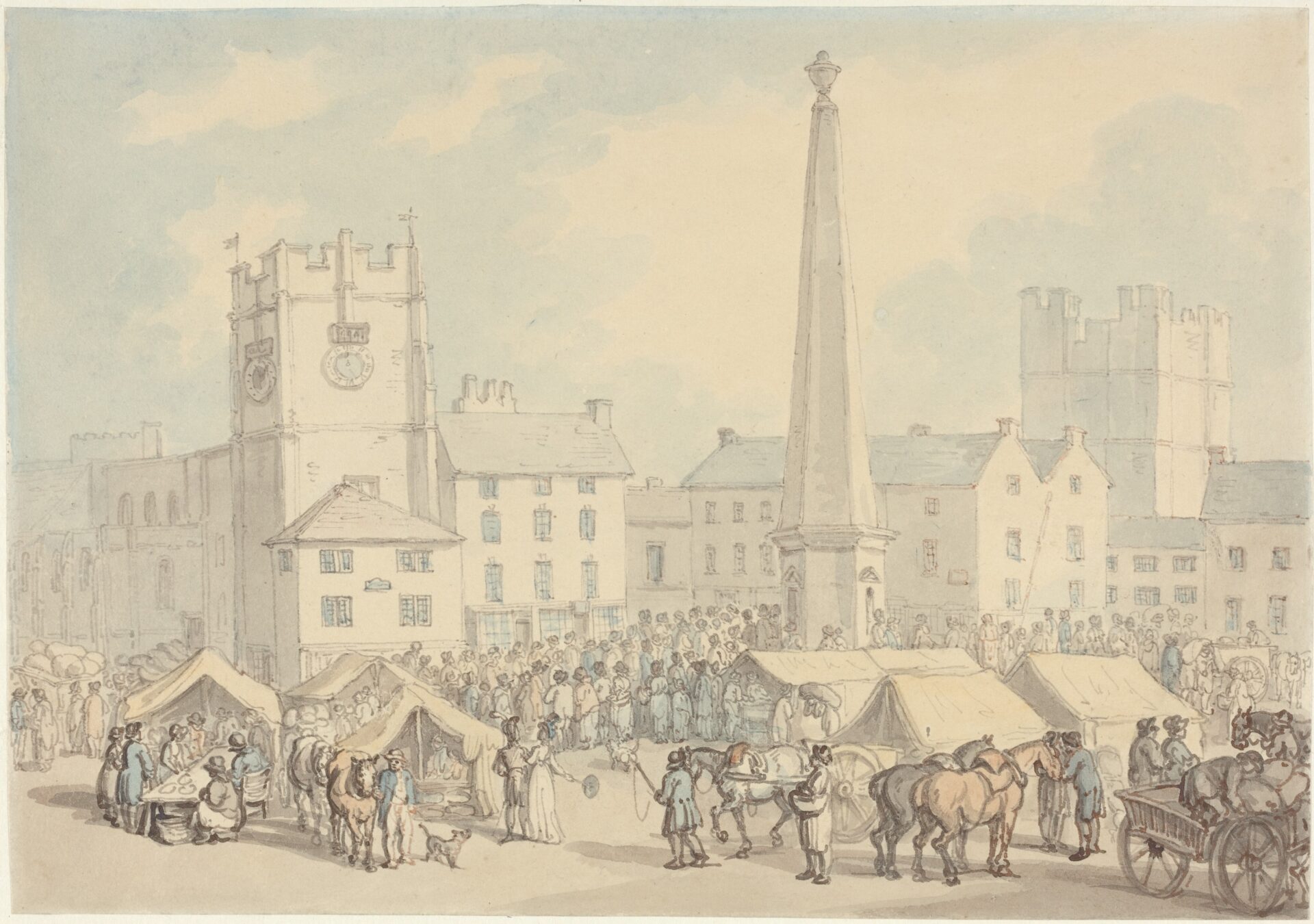 Market Day, Richmond, Yorkshire by Thomas Rowlandson, (c 1800)
The Yorkshire North Riding Militia's annual muster took place in the town's Norman castle, which can be seen in the right of the picture. The visiting soldiers also watched horse racing held on an expensive new track laid out by the corporation in 1765 and they attended balls and assemblies in the new town hall built in 1756. Richmond owed much of its renewal to martial activity. Hanoverian victory over the Jacobites had guaranteed a presence in parliament for the town's two Whig MPs, one of whom, John Yorke, built Culloden Tower in commemoration which was later described by Pevsner as the "most interesting monument of the early Gothic revival" in the Riding. More importantly, the '45 constituted the making of Lawrence Dundas, a Scottish merchant who greatly influenced the town after his arrival in 1760. Dundas had made his fortune feeding and clothing Cumberland's army as it marched to Culloden. With the proceeds of this and ensuing commissions in Germany during the Seven Year War he bought Aske Hall near Richmond. His new wealth brought a life of leisure and allowed him to enter politics because with Aske Estate came 131 burgage houses in Richmond. The houses carried with them the right to vote for a member of parliament, thus making the town Dundas' pocket borough. In the late eighteenth century, Richmond was transformed into a centre of leisure and entertainment, with many new amenities, such as an improved water supply, repaved and newly designed streets, rebuilt houses, and walkways laid out to exhibit the town's fashionable picturesque ruins. In 1763, Dundas groomed his son, Thomas, to take over his Richmond seat and the next year Thomas was married to Lady Charlotte Fitzwilliam, a niece of the Marquess of Rockingham: thus, Dundas' mercantile family joined the aristocracy.
We know that Thomas Dundas attended the opening night of the Richmond Theatre on 3 September 1788 with his brother-in-law Earl Fitzwilliam because a local-seventeen year-old schoolboy James Tate was there and recorded the event in his diary:
"The New Theatre opened. A prologue by Stanfield spoken by Butler. Inkle and Yarico and the midnight hour. Side scenes etc. by Cuit and Coatsworth. The Theatre very elegant. Earl Fitzwilliam, Sir Thos. Dundas, etc. etc."
———————————–
Image by Unknown, Richmond, date unknown