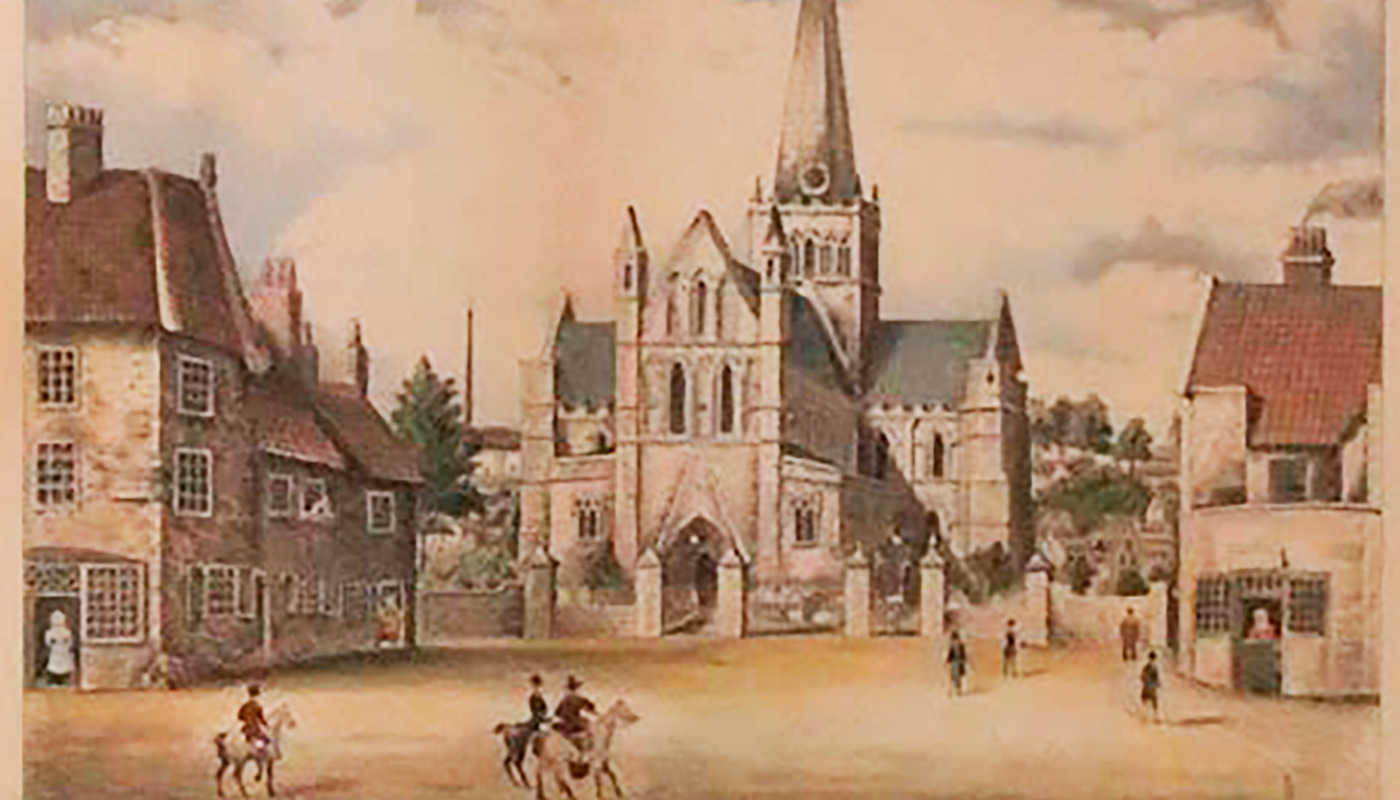 The first history of Darlington, William Hylton Dyer Longstaffe's History and Antiquities of the Parish of Darlington in the Bishoprick, was written in the Victorian era using the material gathered by the local antiquary George Allan. The first recorded theatrical performance of Thomas Bates' Durham Company in Darlington was in June 1768, for which two playbills survive held in the Darlington Library. According to Longstaffe the actors performed "in a tent erected in a field on the edge of town – probably in the Green Tree Fields behind Skinnergate."[1] Theatrical entertainment was popular in the town and thirty-two people appear in the Darlington section of the manager James Cawdell's Miscellaneous Poems published in 1785. One of those entries, "Richardson and Co", refers to the bankers John Mowbray, Richard Richardson and his sons, one of several Quaker businesses based in Darlington that played an important role in monetising the regional economy. Known as the English Philadelphia, due to its strong Quaker presence, Darlington might seem an unlikely place for a theatre company to find success, but perhaps Cawdell's public commitment to charity helped to alleviate concerns. The fact that the subscription appears under a company name suggests that Cawdell used their banking services. As a business that drew considerable sums of money from the public, theatre companies were vulnerable to robbery so banknotes and lines of credit must have provided the Durham company's treasurer Charles Anderson with greater security as he paid his employees, rented playhouses for the season, hired local carpenters, paid local musicians to augment the band, bought costumes and candles for performances and paid for the transportation of the machinery, scenery, costumes and actors by carriage and ship.
The Darlington Quaker James Backhouse, whose banking business was founded in 1774, has the "longest record of any north-country bank" and he later subscribed to Stanfield's Essay on the Study and Composition of Biography. After Hollingsworth and Mowbray's bank collapsed in 1815 the Backhouse bank took over their premises on High Row in Darlington.[2] The Backhouse bank later went into partnership with Barclays in 1896 and their building in Darlington remains the site of Barclays Bank today, therefeby providing a surviving trace of the association between eighteenth-century banking and theatre in the region.
———————————–
[1] William Hylton Dyer Longstaffe, The History and Antiquities of the Parish of Darlington, in the Bishoprick (Darlington: Darlington and Stockton Times, 1854), 300. For a more recent study of Darlington see Gillian Cookson, The Townscape of Darlington (Woodbridge: Boydell & Brewer, 2003).
[2] Maberley Philips, A History of Banks, Bankers and Banking, Northumberland and Durham, and North Yorkshire, illustrating the commercial development of the North of England, from 1755 to 1894 (London: Effingham, Wilson & Co, 1894), 134.
Image by Unknown, Darlington, unknown